Contact Our Showroom

For all sales & specification enquiries

Click & Collect

From Our East Kilbride (Glasgow) Store

Delivering UK Wide

Free For Orders Over £1000
Showroom Service ~ Internet Prices

Authorised Dealer on Major Brands

UK-wide Deliveries or 'Click & Collect'

5-Star* Review Status on Major Sites
Let's be clear - we are not an 'online only' business. Service is central to everything we do and to help deliver on that we remain committed to maintaining and investing in our Showroom. Whether you arrange to visit or simply wish to contact us via telephone, be assured you'll be able to speak to someone helpful and without delay - a rarity we're told nowadays! Please click here for specific directions and contact us if you wish to arrange a showroom appointment.
Are you aware that many online outlets are not recognsied as authorised re-sellers? For our customers this is important. Training, product knowledge and direct channels with the manufactuer to assist with after-sales are all to be valued, especially with premium products. Many of our enquiries actually come from manufacturers recommending us to you, the end-user.
We're proud to be a British Company supplying to all four nations of the UK. Be assured your delivery will be made timely and in good order with good communication. If you live local and prefer to arrange uplift of your order from store - that's no problem either!
Button label
If you like what you've read so far don't just take our word for it. We encourage all customers to spend time researching their supplier prior to placing an order. We hope you conclude on reviewing our company we really are passionate about what we do, and we're proud of our independant trading history since 1995. As we continually strive to improve we value all feedback so please be sure to tell others of your own experience.
Nb - *5-Star average across major platforms.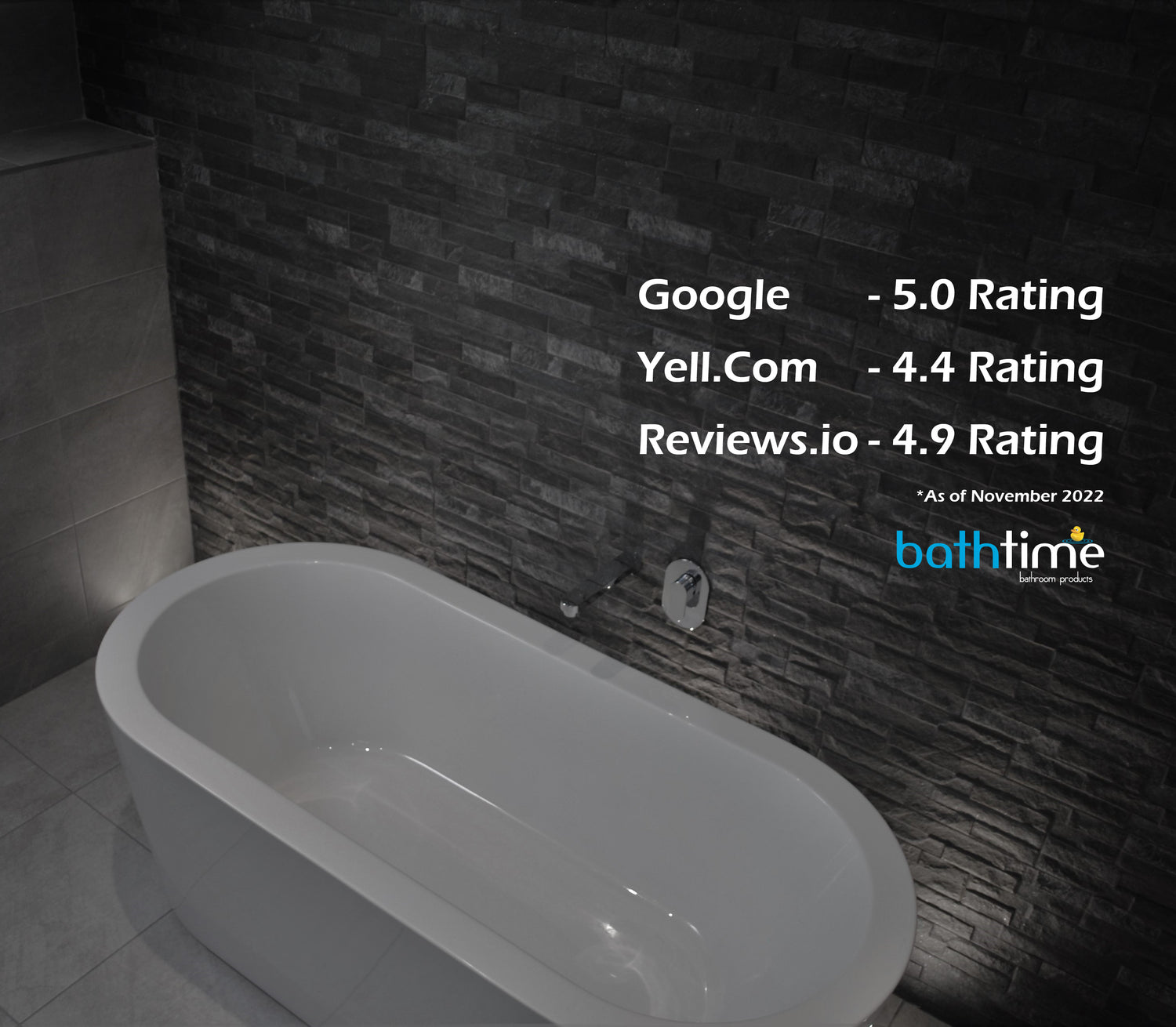 About Bathtime...
For over twenty five years we've designed, supplied & installed beautiful bathrooms from some of the industry's most loved manufacturers. With a strong emphasis on service, specification and after-sales we're often the chosen supplier when service is as important as price.
Delivering throughout the UK, or offering 'click & collect' from our Glasgow (East Kilbride) Showroom, our store presents a fantastic range of bathroom products from various marquee brands. We hope you enjoy visiting our site and remember our promise:
Showroom service ~ Internet prices
Got a Question?
Call us on 01355 267090 for more information.